Grab Now for FREE The Book 'Top 30 Costly Mistakes Solar Newbies Make: Your Smart Guide to Solar Powered Home and Business' [PC and all Ebook Readers Editions]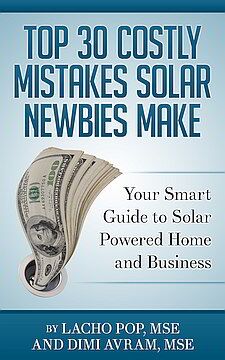 The book provides an untraditional and unique point of view of solar electric systems.
It is about what challenges you should expect on your way to going solar and how to successfully eliminate them.
The authors of the book, who hold a Master Degree in Electronic Engineering, have specified 5 groups of mistakes commonly made no matter whether you decide to buy a photovoltaic system or intend to do it by yourself:
General mistakes and misconceptions
Mistakes upon location assessment
Mistakes upon selecting system components
Mistakes upon solar system sizing
Mistakes upon buying a solar electric system.
The book 'Top 30 Costly Mistakes Solar Newbies Make' is a practical guide that will help you better orientate in the promiscuous world of information about solar panels and systems. The main idea of the book is that you don't need an expert's opinion or advice for issues you can cope all by yourself, such as getting an idea of photovoltaics basics, decide whether to go solar or not and eventually how to select the right solar vendor for your specific case.
Click on the button below and grab the book for FREE now[PC and ebook Readears]:
Reader Reviews: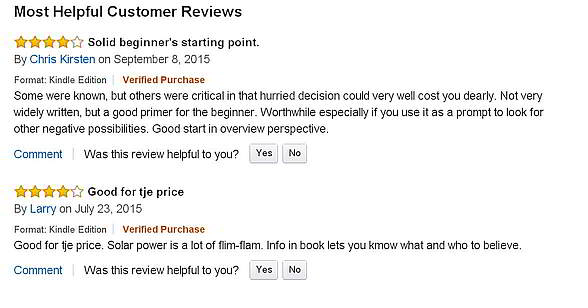 Privacy Policy About Us Contact Us
The following two tabs change content below.

Lacho Pop, MSE, holds a Master's Degree in Electronics and Automatics. He has more than 15 years of experience in the design and implementation of various sophisticated electronic, solar power, and telecommunication systems. He authored and co-authored several practical solar books in the field of solar power and solar photovoltaics. All the books were well-received by the public. You can discover more about his bestselling solar books on Amazon on his profile page here:
Lacho Pop, MSE Profile

Latest posts by Lacho Pop, Master of Science in Engineering (see all)