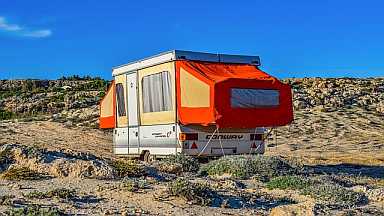 In this article you will discover:
The main features of solar panels for a caravan
What solar panels for a caravan are available
What is the best type of solar panel for a caravan
What size solar panel do I need for my caravan
Solar panels for caravans
Solar power is a perfect add-on for caravans and campers, as it expands the feeling of freedom you have, being an avid camper or boondocker.
Buying a wrong solar panel for your motorhome, however, could be both a waste of money and disappointment.
The idea is to get the mobile solar power system that is going to fit your budget and meet your daily needs.
Only with the right solar system, comprised of the right type of solar panels you can be sure you get real value for your money invested.
What solar panels for a caravan are available?
Normally, solar photovoltaic panels are made of silicon. You can distinguish between the following panel types:
– Monocrystalline solar panels: the most efficient and the most expensive ones. They come in black color, usually covered with hardened glass and come either packed in aluminum frames or built-in foldable blankets.
– Polycrystalline: slightly less efficient and also less expensive than monocrystalline. They are also offered both as single tiles packed in aluminum frames and as foldable blankets. Compared to monocrystalline ones, they produce lower voltage but perform better in low sunlight conditions.
– Thin-film (amorphous) solar panels: twice less efficient as monocrystalline but also the cheapest ones.
They usually come in brown color and do not contain any glass.
Although you need much more panels to produce the same amount of power, compared to mono- and polycrystalline ones, thin-film panels perform better in high-temperature and low-sunlight conditions and are less vulnerable to shading.
A huge benefit is their flexibility – they can be bent, rolled and even folded.
These panels normally have a shorter lifespan and are provided with a much shorter warranty period. Unlike crystalline panels, they are not fragile but should be cleaned regularly since their uneven surface does not allow self-cleaning.
What is the best type of solar panel for a caravan?
What type of solar panels is best for a caravan depends primarily on what devices you intend to power and for how long.
For example, if your electricity needs extend up to charging a mobile phone and turning on a couple of LED-lights, then probably a solar array comprising cheap polycrystalline or even thin-film panels would be enough.
If you use more powerful devices and for a longer period, such as a small TV set and car fridge, you by all means need high-efficiency panels, preferably monocrystalline ones.
Solar panels can be either fixed (mounted on the roof) or portable. For your caravan, both options are possible.
This is not valid, however for marine vehicles where the only way to benefit from solar power is to install panels on the roof of your boat.
Furthermore, always when space in an issue, monocrystalline panels are preferred to thin-film ones.
If you decide to use monocrystalline solar panels for your caravan, however, be sure to provide them with access to full sunlight.
In this regard, roof-mounted solar panels not only would prevent you to park in a shady, cool place but are also less flexible to angling and tilting.
What size solar panel do I need for my caravan?
The 'size' of a solar panel usually denotes its wattage measuring the amount of solar-generated electricity.
An essential technical parameter of a solar photovoltaic panel is its 'installed' or 'peak' power denoted in Watts-peak (Wp).
For example, a panel of 100Wp rated power will produce 100Wh of electricity to power your devices. Another essential parameter of solar panels is voltage.
Some portable solar power system run at 24V but the voltage commonly used for caravans and campers is 12V.
Here are some examples that would give you a hint what size solar panel for a caravan to buy.
If you only need electricity to charge some low consumption devices, such as phones, tablets or e-books, you could buy a low-wattage 10Wp solar panel, without a battery to charge.
If your consumption is higher – for example, a couple of lights and a laptop charger, a 50Wp solar panel would do, in combination with a battery of 50 Ah of capacity.
If apart from the above, you are going to power a small TV and a car fridge, you'll need a solar panel of wattage between 100Wp and 200Wp and a battery bank of 100Ah.
In case you also intend to power, for example, a water pump and some high-consumption appliances, such as small cookers or hair driers, you need wattages of above 200Wp (24V) and battery of 150-200Ah.
As you see, the battery capacity roughly corresponds to the wattage of solar panels.
This is logical, since the solar array, whether portable or fixed, should be able to fully charge the battery.
Also, any off-grid solar system can be regarded as a battery charger.
Therefore, to get the maximum from solar energy, your battery must be in a good condition and provided with a battery management system.
In the light of the above, if you expect you will always turn to be near a hook-up, you do not need to invest in a mobile solar panel system for your caravan but rather calculate how much you should prepare to pay for the devices used during the camping.
Which solar panels are best for a caravan depends on your daily consumption, your budget available and the space to mount the solar array.
Monocrystalline panels provide you with more solar-generated electricity to meet your needs and will take less space at higher cost.
In case your budget is more limited, and you still have to power a range of devices, you can get polycrystalline panels instead. If you want a cheap solar power system, where neither the available space nor the shorter warranty and lifespan are an issue, you should buy thin-film panels.
As a bonus, they will provide you with resistance to higher ambient temperatures, more tolerance to shading and more resistance to mechanical impact.
Picking up the right solar panels for your caravan is really essential.
The most important, however, is to make the mobile solar power system work properly for you.
Therefore, apart from selecting the right solar components, a solar panel system should be sized properly in order to justify your mobile solar power investment by achieving maximum performance and providing the expected power output.
You also may like:
Which Solar Panels Are Best For Camping
Free Solar Panels For Home Use
The best solar panel for motorhomes
How to choose the best solar panels for your solar power system
The following two tabs change content below.

Lacho Pop, MSE, holds a Master's Degree in Electronics and Automatics. He has more than 15 years of experience in the design and implementation of various sophisticated electronic, solar power, and telecommunication systems. He authored and co-authored several practical solar books in the field of solar power and solar photovoltaics. All the books were well-received by the public. You can discover more about his bestselling solar books on Amazon on his profile page here:
Lacho Pop, MSE Profile

Latest posts by Lacho Pop, Master of Science in Engineering (see all)